What should I do If my A36plus is locked on GMRS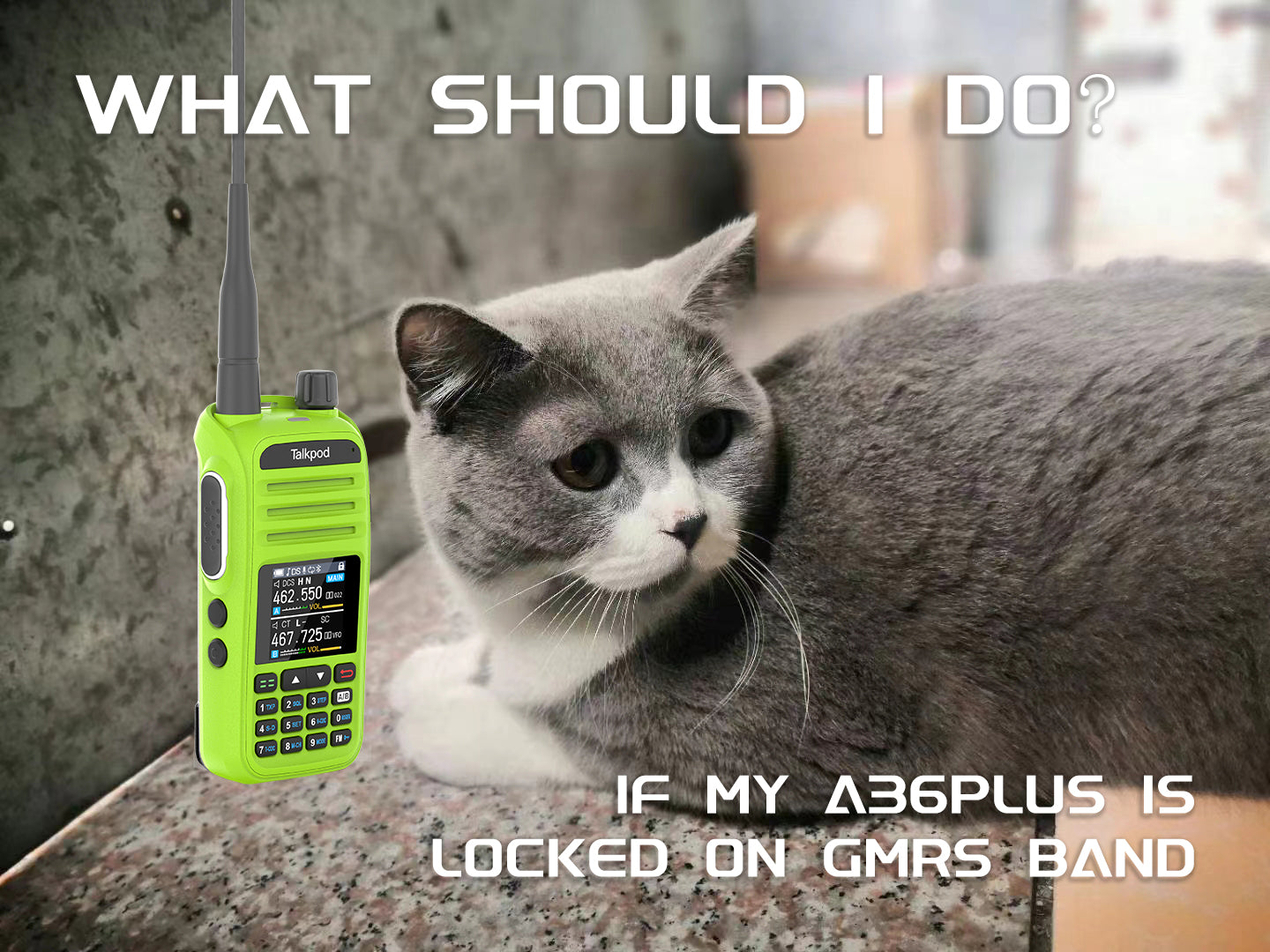 Greetings, radio communication enthusiasts!
We at Talkpod are passionate about pushing the boundaries of radio communication technology. One of our recent offerings, the Talkpod A36 Plus, has sparked quite a bit of interest for its extensive features and capabilities.
The Talkpod A36 Plus was initially marketed as a portable transceiver on various platforms such as Amazon. However, as stated in our product documentation, it's much more than just that. This impressive device offers a multitude of functionalities that cater to a wide range of user needs, reinforcing our commitment to adaptability and versatility.
Despite some user reviews stating that the device is locked to certain functionalities when purchased from specific retailers like Amazon, we want to assure you that the Talkpod A36 Plus is a device designed for diverse uses. It's shipped to correspond with regional regulations, which is a testament to its flexible nature.
Harnessing the Power of Talkpod A36 Plus
The Talkpod A36 Plus is not just about meeting expectations but exceeding them. There's a world of possibilities to be discovered with this versatile device.
Unlocking the extensive features of the A36 Plus is simple. Users can access additional functionalities by pressing and holding the PTT button, pressing the number eight, and powering on the device. This series of steps reveals additional features on the display, highlighting the device's multi-band capability.
In our relentless pursuit of innovation, we have found that the 'expand' feature offers a host of intriguing options. The A36 Plus can operate on several bands:
PTT + 2: Displays 144-146, suitable for the European or Japanese markets. This setting is locked and won't accept UHF frequencies.
PTT + 3: Shows a 245-247 range, an unfamiliar range to many.
PTT + 4: Displays 136-174 and 400-480, compatible with common Baofeng frequencies.
PTT + 5: Displays 144-148 and 440-480, making it appropriate for 2 meters and 70 centimeters bands.
We encourage users to explore these features and unlock the full potential of their Talkpod A36 Plus. However, we also remind everyone to respect the regulations of their respective regions when transmitting on different bands.
Wrapping Up
The Talkpod A36 Plus is a device of many dimensions, designed to cater to a diverse range of communication needs. Whether you are a seasoned radio enthusiast or a novice user, the Talkpod A36 Plus has something to offer you. As we continue to innovate and evolve, we invite all our users to delve deeper into the expansive world of radio communication.
Stay connected with Talkpod for more updates!