Talkpod for azetti
Talkpod Platform Support Azetti V1.0
HIGH EFFICIENCY THROUGH REAL-TIME COMMUNICATION
GoPTT service delivers highly-reliable semi-duplex voice communication for groups or individuals by simply pushing a button. GoPTT is a workforce management solution that converts your handset into walkie talkie terminal to provide instant communication whether you are connected via cellular LTE, 4G, 3G, private networks or WiFi. GoPTT has solved the problem of limitation of traditional walkie-talkie features by allowing users not only to talk but also send messages, check availability of other group members, sharing the content. In addition, it gives you unlimited calling, reliable and proven service based on industry standards.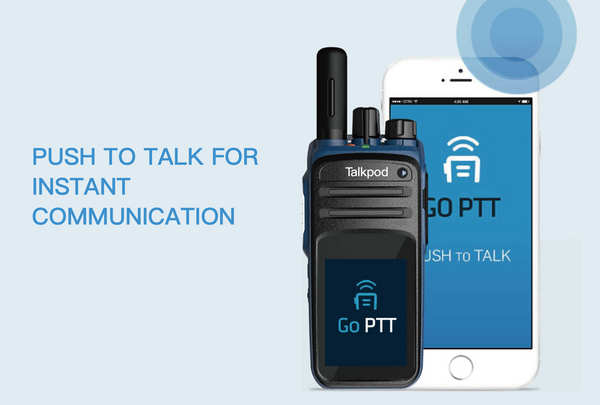 HOW DOES IT WORK?
Go PTT, based on IP technology, converts your mobile device into walkie-talkie. It brings Push-to-Talk service to smart phones, rugged devices, tablets, PDAs and PC. GoPTT is perfect for brief and immediate conversations that help you get things done right away to improve workforce safety and coordination.
MAIN FEATURES
REAL-TIME GROUP COMMUNICATION
Communicate one to one or with groups of up to 250 users. You can be assigned to number of channels (groups) at the same time.
INDIVIDUAL SECURE CALL
Connect privately with one person and share the information discretely. Access your contacts easily and quickly set up a personal call through user-friendly PTT app.
GPS LOCATION AND USER TRACKING
Improve business productivity by monitoring and tracking your coworkers on a map. Go PTT uses a centralized server to which all users with enabled location replicate their real time data that capture current position of the team to see who is close by to assist.
PUSH-TO-SHARE INSTANT MESSAGES, IMAGE AND VIDEO
Send important information to decision makers to improve work-flow and work efficiency with real-time instant text messages and video.
PRIORITY CALLING FOR EMERGENCY SITUATIONS
Communicate with your team immediately if you are in emergency. Don't wait until other person finishes talking. Just press the priority PTT button and your message will override the existing PTT call.
CROSS NETWORK COMMUNICATION GoPTT
works over 4G LTE/HSPA+, 3G, and 2G, providing you with extended reach of communication. Stay connected with your group members via home or corporate WiFi networks . Over any network with a device you prefer.
VOICE RECORDING
Talk to your group and replay outgoing and incoming missed messages. GoPTT records and stores all communication for you on the device.
HIGH VOICE QUALITY
Proven technology provided by GoPTT delivers sub-second, clear performance. Do not waste time for outdated solutions and improve communication with.
INTEROPERABILITY
EXTEND REACH OF TWO-WAY RADIO WITH GOPTT GoPTT
Provides integration of PTT over cellular with 2-way radio sytems. GoPTT offers PTT application running on smartphone, tablet and PC that offers economic way to extend communications far beyond the boundaries of regional radio systems. Avoid carrying two devices for both solutions and communicate between analog, system and smartphones & tablets powered by Android thanks to the special interconnection gateway and GoPTT app. The solution gives you flexibility combining two systems and providing calls across LMR, cellular and WiFi.
PTT DISPATCHER
Dispatcher allows a dispatcher to communicate in real-time with PTT users in the field. It is a standalone application with intuitive user interface that runs on a standard PC or laptop. PTT dispatcher operator can:
answer and initiate group and individual calls
create calls between users
see GPS position of users through Google Maps and contact them directly from the map
record voice calls and see call history
view presence status (availability) of all users
manage and coordinate the users according to their tasks
send personal or group messages
MULTIPLATFORM
PTT TERMINALS
Choose a handset you want to talk with others via GoPTT app whether it is a ruggedized phone, smartphone, tablet, specialized PDA or PC. GoPTT supports broad range of terminals and operating systems that will give you flexibility to select best device for Push-to-Talk according to your needs.
Nokia                                           
iPhone
Android
Blackberry
Windows
Mobile
Trunking
radio
Bluetooth
devices
Atex
Terminals
PC
Dispatcher
WEBADMIN
Web-based Push to Talk Administrative tool provides a flexible and easy way to manage contacts and groups. Web Admin Lite tool doesn't require any software installation and can be accessed online. It supports Firefox 8, Chrome 15, Safari 5 Internet browser..
KEY ADVANTAGES OF WEB ADMIN LITE TOOL INCLUDE:
easy and fast way to create users and groups
Batch Provisioning – creating PTT users from a file (incl. contact and group list)
easy way to handle Contact List and Group List for a single user
simplicity and easiness of managing Group ACL
users tracking on the map
Compatible Radios